Standing up smoothly and continuing further with your rollator seems easier than it actually is. The first thing you have to do is to bring the rollator close to your seat so you can easily reach it. Or ask someone to put it in front of your chair.

This is the third in a series of six lessons on how to correctly use a rollator indoors.
If you are home alone than you always need to pay attention where you leave your rollator. Make sure you can grab it from a sitting position.
Standing up goes as follows:
The rollator must be in front of the armchair, with the parking brake on.
Put your feet straight in front of the chair.
Shuffle yourself forward. It is easier to stand up when you sit on the edge of your chair.
Put one foot a little tucked back under your seat.
Bend forward. That makes standing up easier, because you move your weight forward, above your feet.
Support yourself with both hands on the armrest of the chair and push yourself up until you are standing.
First transfer one hand from the chair's armrest to the rollator handle, then the other hand. You should do this only when you are completely upright. The rollator is not intended for pulling yourself up.
Parking brake can be released only when you are standing firmly between the handles.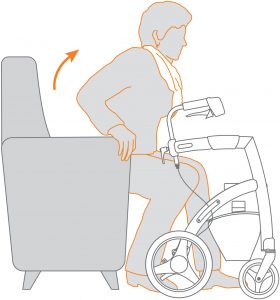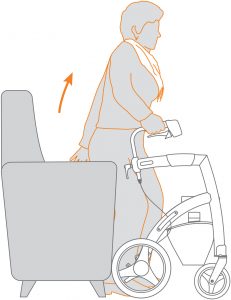 Tip from Rollz-physio Anne-Wil Siegmund
"I have another thing for you to consider for your safety. While standing up, lean on the armrests of the chair, and not on the rollator."
Keep an eye on our website for the next lesson: Sitting down on a chair.
---
Read more blogs: