A lot of people have been idle and inside their homes for longer than they would have liked to during the corona crises. That could have made them  stiff and less fit. 
With more and more countries relaxing the lockdown measures nowadays it is important to adapt to the new situation when picking up some of the daily activities. In this blog we give tips on how to become fitter and build up physical and mental resistance with a rollator in a corona safe way.
1. Greet people from your front yard
It is understandable if you got bored of seeing only a few people during these last couple of months. But it is still not safe for everyone to go to the city, village or shops. But there is an interim solution: sit down on your walker in the front yard of your house to have a remote chat with passers-by. You can do it on either the Rollz Motion, the Rollz Motion Performance or the Rollz Flex as both are equipped with seats. Just remember to put it on parking brake before sitting down so it cannot roll away.
You will be surprised at how many people enjoy chatting over the hedge or waving while passing by. It is a safe form of social contact more than 1,5 m away and you can enjoy some time out at the same time.
2. Be inspired by Captain Tom 
Even a 99-year-old can get moving every day and keep it up when setting a goal. If you have space in the garden you can get inspired by the 99-year-old war veteran Tom Moore. Last April the Brit volunteered to run a hundred laps (of 25 meters each) in his backyard, supported by his walker. In doing so he wanted to raise a thousand pounds for healthcare workers during the British quarantine period. He surprised himself and the entire Great Britain with the final sponsorship amount of £32 million.
The veteran, known as Captain Tom, started the challenge three weeks before his 100th birthday and walked about ten laps every day. "The first two rounds are the hardest," said Moore. "Then I focus at what I'm doing and just do it. Once I start it's fine and that's how I can keep it up."
Be like Captain Tom and set yourself a daily measurable goal for your walking exercise and share the goal with others so that you are encouraged to stick to it.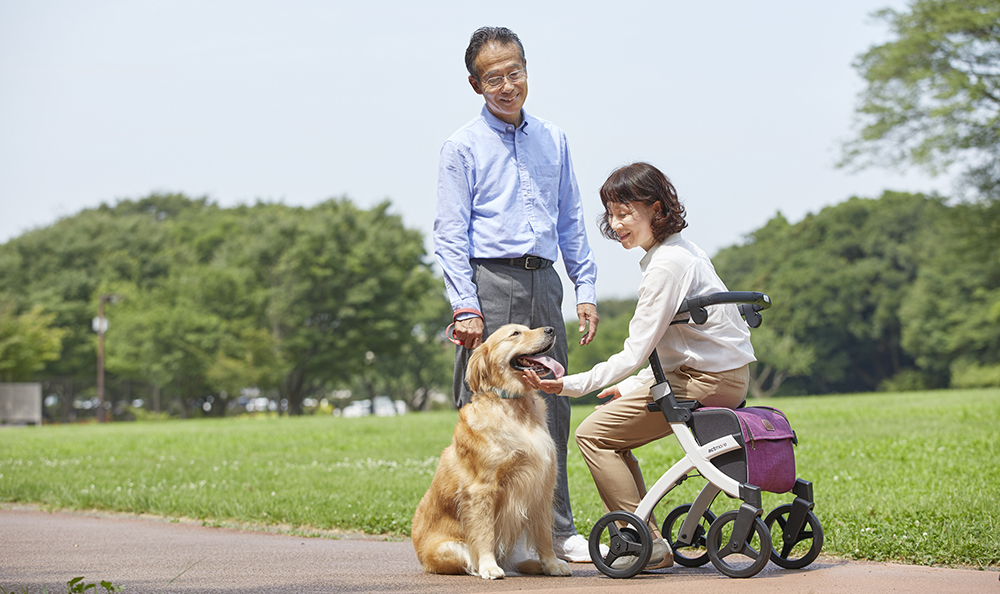 3. Start walking again
Just by going for daily walks with a rollator in a corona safe mentality you can improve your health and strength conditions. Moreover, think of your mobility aid as a support for your mission to exercise more.
Tips to keep it going:
Come up with a fun destination within walking distance to get some fresh air every day.
Plan a time or moment for your daily stroll (after coffee for example) and stick to that appointment with yourself. Because this way you will not have to think about planning every day and the walking exercise will simply become part of your daily rhythm.
The first step is to stand up from your chair. To do so you will need the rollator close to the chair for support. You can find detailed tips about how to safely stand up from a chair in this blog.
Adjust your route on the go if you feel you will be out of breath before reaching the corner of the street. It might be just too far for you today to continue your walk, so take a brake and turn around when ready. You can try again the next day. Even if you only walked for five or ten minutes, this will help creating a daily rhythm. You could get a little further or walking will get easier by day.
Keep it interesting by sometimes walking in the opposite direction as you might get bored of taking the same route every day. Or turn left instead of right at the first corner to see different things on your route.
4. Bring your own seat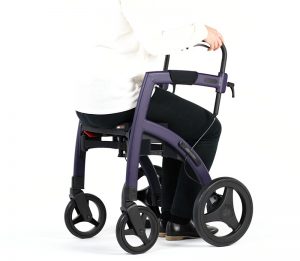 After getting used to walk more, you will probably dare to stop and have a chat with a friend along the way. This way you can also take a break and rest on your rollator if needed. Or visit a family member and have a talk in their backyard. Because you have your own seat with you, you can easily sit down on your the walker and not touch anything from their house. If you have a Rollz Motion you can transform it into a wheelchair within seconds and have a more comfortable sitting position. However, always remember to keep the corona safe distance.
5. Use your hearing aid
At a spontaneous meeting on the street people sometimes forget to stay at a distance while talking. It is even more difficult when one's hearing is not that good and the person tends to get much closer than advised. If you have a hearing aid at home make sure to take it with you outside.
6. Disinfect your hands on the way
Always bring disinfectant wipes or gel with you to be able to disinfect your hands on the go if you have touched anything. You can put it in the bag of the Rollz Flex or in the basket under the seat of the Rollz Motion. After cleaning your hands, let them dry thoroughly before grasping the handles again. The alcohol in the disinfectant gel could affect the foam of the handles.
7. Disinfect your rollator regularly
As long as the coronavirus is still around, it is important to wash your hands regularly. By extension, we advise you to also disinfect your rollator. This certainly applies when it has been used by someone else, for example when you were being pushed in the wheelchair.
The metal parts can be cleaned with a standard cleaning cloth and a disinfectant that also kills viruses. The soft PU foam handles of the Rollz Motion cannot be cleaned with any disinfectant. Products containing alcohol can attack the polyurethane foam material. Therefore, do not use alcohol-containing agents to disinfect the handles. We recommend cleaning the handles thoroughly with a clean dishcloth dipped in detergent solution. The same applies to the armrests and the handle of the wheelchair package. Afterwards, wash the dishcloth at 60°C.
The cover of the seat cushion of the Rollz Motion should be regularly washed in the washing machine, at 30°C.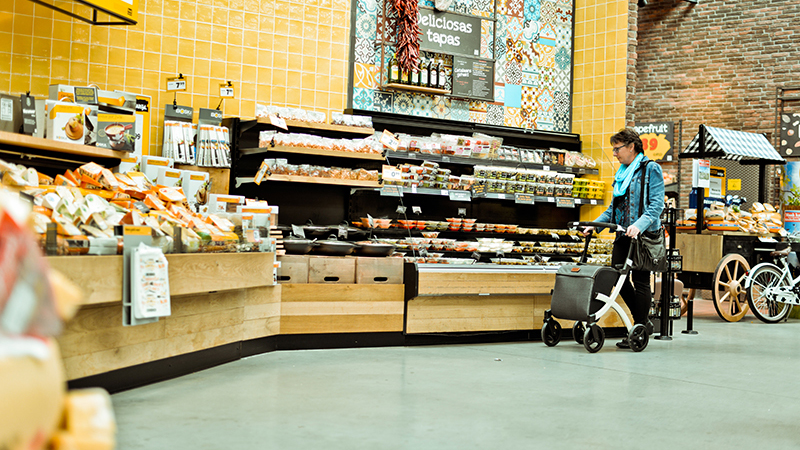 8. Grocery shopping with a rollator in a corona safe society
Most stores intoduced strict instructions to keep the distance between customers. Of course, these differ from one country to another. In many stores customers are not allowed to enter in pairs, are only provided access using shoppings carts or encouraged to use contactless paying methods.
Supermarkets deal pragmatically and reasonably in terms of corona measures with people in wheelchairs or scooters. Even those who depend on a walker can simply take it inside and do shoppings without having to also bring a shopping cart. This also reduces the risk of infection but you have to be careful to keep the distance from others.
Walking routes are clearly marked in some shops with arrows showing the walking direction. Or you can choose for ordering groceries online and have it delivered at home.
9. Make the 1,5 m rule a good habit
If in shops there are probably stickers to help you keep the corona safe distance, outside it is up to you to enforce the rules. This is more difficult than it seems, especially when you meet someone you know. So make it negotiable: "I'm trying to keep the right distance, tricky huh!"
Do not increase your walking pace to keep your distance but step aside to let people pass. Moreover, ask kindly to be allowed to pass when a group of people is talking on the sidewalk.
When people start talking, they often move closer together unnoticed. Be attentive to this. Whether you are staying right in front of your house, walking around the village or in the park, always keep a safe distance of six feet. Especially when you are chatting with people.
---
Read more blogs: