Dreamy white landscapes, hot chocolate and the joy of Christmas holidays make winter time a wonderful season. For people with mobility issues however, walking with a rollator in winter can also be filled with anxiety. Enjoying even the simplest activities such as strolls through the streets to admire the Christmas lights, gift shopping or going out for coffee, requires more effort, planning and the help of family or friends. Snow and dropping temperatures can keep winter activities out of reach.
But there's really no reason to become inactive and isolated during the winter months. Here at Rollz, we encourage everyone to lead active and independent lives, regardless of their physical limitations. For that reason, we have prepared a list of do's and don'ts to keep you moving this winter and enjoying the outdoors. All of these tips have one common goal – to keep you safe.
Your rollator is your best friend
Rollators are designed to provide stability, and if used correctly, they help you keep your balance even when using a rollator in winter conditions. Of course, this requires that you be more cautious and avoid icy or snowy surfaces. When that is not possible, you should take smaller steps, with your feet slightly pointed outwards, and walk as upright as possible. OK, you might look like a penguin, but it works! It will slow you down a bit, but you will be stable, safe and on your feet.
Stay visible
With winter come longer periods of darkness. Before heading out, make sure your lights are charged and apply reflective stickers on your rollator for extra safety. Wearing colourful clothing makes it easier for others to spot you. Plus, it's a great mood booster. 🙂
Stay warm
Wearing proper clothing to keep warm will also allow you to stay out longer. Thermal wear is a great option as it is designed for an active lifestyle, and is breathable and lightweight.
It is important to keep the extremities of your body warm when outside with a rollator in winter. Your hands and feet are the first to lose body heat. Layering your clothes is a must as well as wearing warm gloves, a beanie, a winter scarf, thermal socks and shoes or boots that will keep you from slipping and falling. The soles should have good grips for better traction. Your rollator is also there to offer support. Keep your body close to it and maintain a straight stance.
And why not take some tea along? You can carry it in the basket or holder that you find on most rollators. 
Stay dry
Winter weather is quite unpredictable, with rain, sleet or snow falling at any time of the day. This is even more common in northern countries where precipitation is a daily occurrence. Combined with lower temperatures, you can get wet and cold very quickly even when dressed for the weather. A solution would be to look for a rollator umbrella to help you stay dry. This accessory attaches to the frame of your rollator and allows you to push it with both hands for safety.
Don't forget your cell phone
It is comforting to know that you can contact your family at any time in case of an emergency, so make sure your cell phone is charged and stored in an easy-to-reach pocket. This peace of mind reduces stress and gives you the confidence to venture out on your own, without necessarily depending on close ones. Don't forget to stop from time to time to catch your breath, sit on your rollator and take photos of the festive landscapes around you.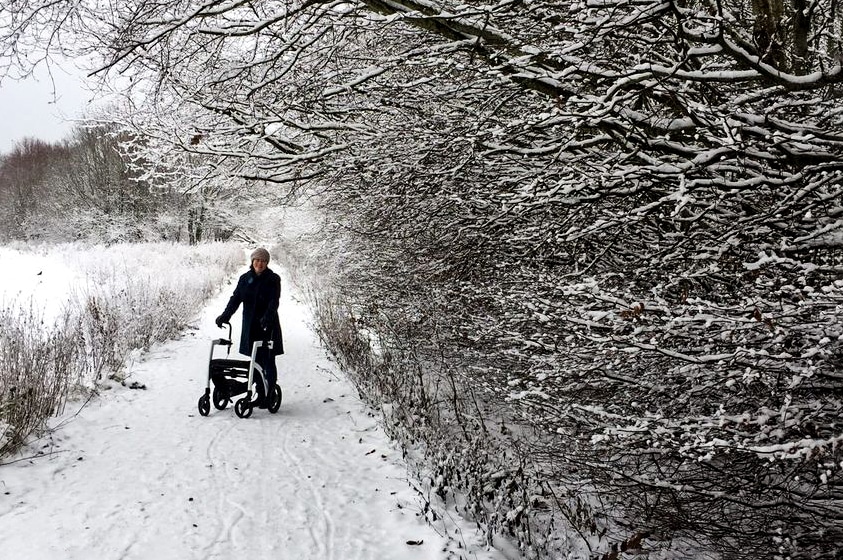 Cities should be safe for everyone
If you encounter an icy sidewalk or snowdrifts that block your street, a call to the local authorities should solve the problem, helping you and your entire community to get around. Municipalities are responsible for clearing roads and sidewalks. Of course, response time might be slower in the aftermath of a snowstorm. If that's the case, it is wise to stay home and ask a friend or family member to help you, for example, to get groceries.
It's OK to ask for help
If you don't feel confident enough to go out on your own, don't hesitate to ask a family member or a friend to accompany you on your walk. Shared activities like this, usually shape our best memories. Don't let feelings of helplessness stop you from enjoying the simple things in life—grabbing a coffee, spending time with those you love and sharing a good laugh.
Rollz Motion Performance – the ideal winter rollator
Many features on our all-terrain Rollz Motion Performance make it ideal for using this rollator in winter conditions, including snow and ice. It's like a 4×4 vehicle with grips on the wheels for optimal traction, which keeps your rollator stable and safe. The Rollz Motion Performance comes with pneumatic tires for shock absorption. They dampen vibrations and provide a smoother ride on uneven surfaces. This way you can enjoy your winter walks with more comfort and ease. Learn more about the many features of the Rollz Motion Performance here.
No matter which model of rollator you use, exercise caution any time you go out. This way, you can enjoy the outdoors every day of the year.
---
Read more blogs: