Compare and find the right mobility aid for your needs
Identifying the most suitable solution can be challenging due to the specialized nature of the mobility aids available on the market. That is why having a comprehensive overview of all possibilities is crucial for effectively comparing and distinguishing the options, empowering you to make an informed decision and keep moving confidently.
Canes and crutches
Similarities and contrasts
Canes are ideal for short distances and crowded places due to their light weight and size. Canes can assist with balance while walking or standing, and decrease weight-bearing pressure on knees, hips or legs. However, their simplicity limits their stability and versatility compared to rollators for example, which offer additional features, like the possibility to sit or lean comfortably with both arms. Despite this, canes remain the easiest option to use among all mobility aids on the market.

Crutches provide additional support through increased contact points on the stick, primarily aiding in injury recovery. They are a suitable option when seeking a mobility device to alleviate pain through weight redistribution, enhance balance, and engage more muscles compared to regular canes. However, they can present difficulties in terms of their ease of use and when utilized for an extended period of time.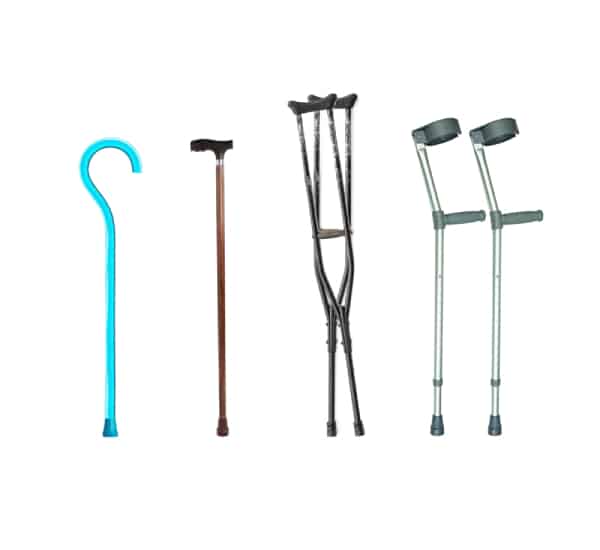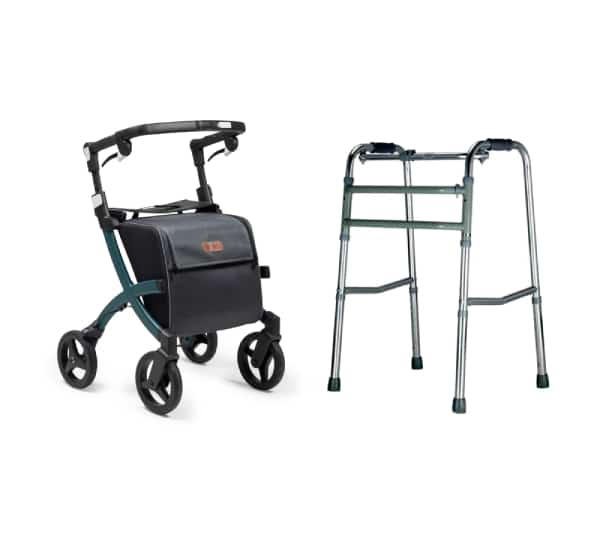 Walking frames and rollators
Benefits and drawbacks
Walking frames are essentially simplified rollators without wheels. While they can be used both indoors and outdoors, they require lifting with each step, which makes movement a bit more difficult. Additionally, some walking frames lack the option to rest by sitting on the frame. As a result, walking frames are not as universally suitable and may not be the best choice for individuals with weaker arms.

Rollators, on the other hand, offer extra mobility and comfort while walking due to their wheels. They eliminate the need for lifting with each step and provide a small turning circle, making navigation in small environments effortless. Moreover, many rollators come with the option to sit, allowing for quick rest breaks. Though rollators can be heavier than walking frames due to the inclusion of wheels and brakes, this additional weight comes with an added benefit: more stability. Rollators also offer a variety of colors and are more stylish compared to walking frames.


Wheelchairs and mobility scooters
Pros and cons
Wheelchairs come in various types, typically categorized as manual and self-propelled. Manual wheelchairs require the user to propel themselves forward by turning the wheels or be assisted by someone pushing from behind. On the other hand, a self-propelled wheelchair, also known as a power wheelchair, utilizes an electric motor to move the user onto the wheelchair. The key advantage of using a wheelchair is the ability to sit comfortably while moving. Most wheelchairs are equipped with soft cushions and special tires, ensuring a smooth ride across various terrains.

Mobility scooters are a good option for those with mobility limitations seeking increased freedom outdoors. They are fully self-propelled and often boast long-lasting battery life. Scooters provide enhanced safety, stability, and reduced fatigue compared to regular wheelchairs. However, they might fall short in terms of accessibility, physical benefits, and customization.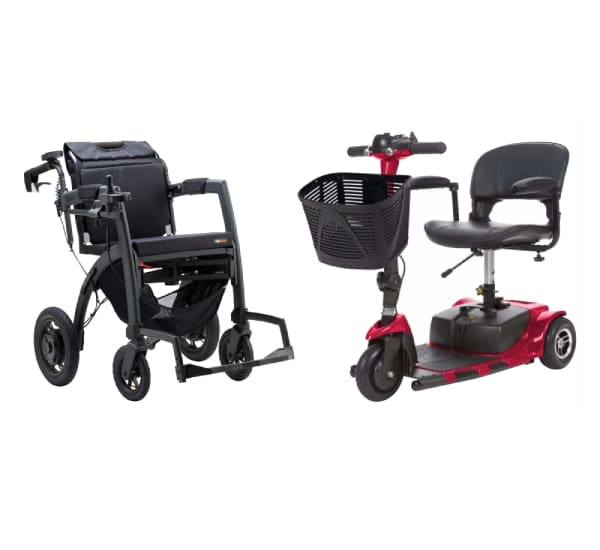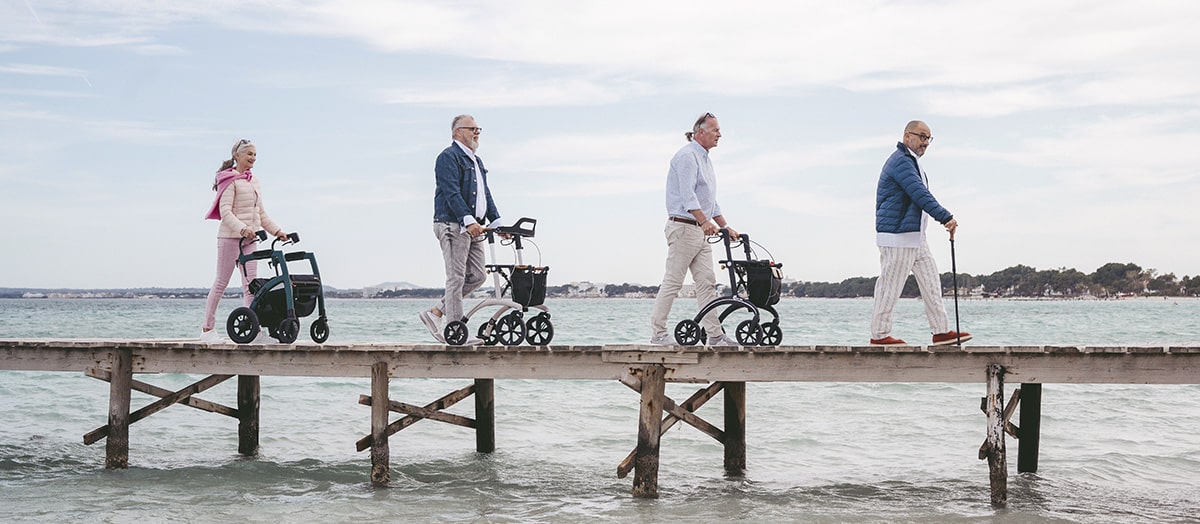 Important aspects to consider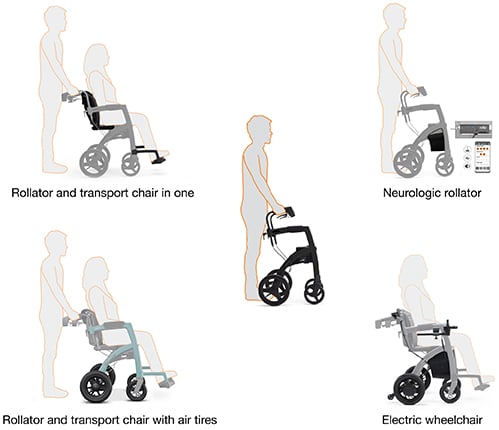 Rollz rollators combine everything you need
Long-term investment
Rollz rollators are adaptable mobility aids, designed to cater to different body structures and changing mobility requirements over time.

The Rollz Motion rollator is the baseline of Rollz's modular system that empowers tailored adjustments, allowing to seamlessly integrates new technology and features. The wheelchair package add-on enhances the rollator option, creating a versatile 2-in-1 solution with a transport chair feature. The Rhythm module caters to those with neurological conditions, and the electric kit converts the transport chair into an electric wheelchair. Through this modular approach, Rollz seamlessly integrates innovations, reducing waste and enabling customers to save money by adapting their existing product to changing mobility needs, eliminating the need for frequent new purchases.
Compare the Rollz rollators
Try out the Rollz rollators
Get a home demo or test it for 14 days
If you're unable to visit a store to experience the functionality of Rollz rollators firsthand, our dedicated Rollz adviser can bring the expertise to your doorstep. They'll offer personalized guidance, helping you select the ideal rollator tailored to your specific requirements.

Should you decide to make an online purchase, you have the convenience of trying out the rollator in the comfort of your own home for 14 days. If it doesn't meet your expectations, rest assured that you can return it without any cost to you. However, if you find the Rollz rollator to be a fantastic fit for your needs, our commitment to your satisfaction is further emphasized through our comprehensive 5-year warranty, ensuring you get the most out of your rollator and enabling you to enjoy its benefits to the fullest.