You immediately feel the difference when you walk with this new rollator with pneumatic tires. The Rollz Motion Performance hardly vibrates, not even when you walk over a square with boulders. Even if you convert it into a transport chair, you hardly feel vibrancy. And pushing the chair is easier.
To understand why pneumatic tires reduce vibrations better, we ask Jan Willem de Joode for an explanation. He is a movement technologist and ergonomic designer at design agency inMarket, which designed the Rollz Motion Performance. De Joode previously worked as an orthopedic advisor.
"With wheelchairs and walkers you basically have to deal with two important characteristics of the tires: suspension and rolling resistance. These two are inversely proportional. In other words: the harder the tire, the lower the roll friction and the easier it is to push the wheelchair. But at the same time the following applies: the harder the tire, the less the suspension and comfort for the person sitting in the wheelchair". So hard and soft tires both have advantages and disadvantages. Pneumatic tires offer the solution.
Rollators with hard or soft tires
Older walker versions have solid, hard rubber tires. Such tires make the rollator easy to push but cause a lot of vibration while walking. Especially outside, on uneven terrain, this does not feel pleasant.
Later, rollators with relatively soft tires made of solid synthetic rubber such as PU (Poly Urethane rubber) or EVA came onto the market. Those have better suspension. The material can be pressed in more easily and absorbs more vibrations. Jan Willem de Joode, however, nuances: "These soft synthetic rubber tires indeed offer higher comfort, but that is accompanied by a slightly higher rolling resistance. PU tires therefore push a bit heavier". Even soft synthetic rubber tires are therefore not the ultimate solution.
Rollator with pneumatic tires 
A big wish of people who like to walk outside on bumpy road surfaces is a walker that pushes light and does not vibrate. This is also very pleasant for people with sensitive hands, wrists or shoulders or back problems. Does such a walker exist? The solution is, according to movement technologist Jan Willem de Joode, a walker with pneumatic tires.
"Pneumatic tires are more elastic than a PU tire of comparable hardness. Because of that excellent suspension, such a walker hardly vibrates. And hard inflated pneumatic tires combine that with a low rolling resistance. Because the wheel easily bounces back, this improves the roll friction. How easily a tire can deform and bounce back, determines how much or how little push energy is lost in the deformation. Pneumatic tires reduce vibrations better with a relatively low rolling resistance."
Less technically formulated: the major advantage of pneumatic tires in comparison to solid tires is that the rollator barely vibrates. This makes driving feel very comfortable, while pushing requires little energy.
If you like walking with your walker on rough terrain, a walker with pneumatic tires is the best choice. This costs less energy and provides more comfort, even when walking along forest paths, bumpy roads or when walking around in old city centers. The wide "cheek" of the band absorbs the shocks.
Especially in combination with extra large rear wheels such as the Rollz Motion Performance, it also goes over pavements and thresholds more easily. Pneumatic tires provide the best damping and ride comfortably with much less vibration over uneven terrain.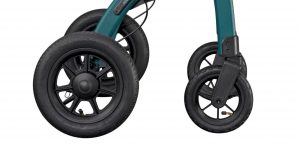 For whom is a walker with pneumatic tires recommended?  
For anyone looking for a shock-free and low-vibration walker, for example due to back problems such as a hernia.
Provides relief for people who are sensitive in their hands, wrists, neck or shoulders.
Ideal for osteoarthritis or painful joints.
For those who don't have that much energy and are looking for a walker and wheelchair that pushes easily.
For those who like to walk on uneven terrain or live in an environment with bumpy roads.
 
Usage tips for the Rollz Motion Performance with pneumatic tires
Inflate the tires regularly to keep them at the correct pressure. It is wise to always take the supplied pump with you. This pump fits next to the footrests in the bag of the wheelchair package, so it's out of sight and yet at hand.
In general, we recommend a maximum pressure of 2.5 bar for the large rear tires and a higher pressure of a maximum of 4.5 bar for the small front tires.
The tires are too soft if you experience too little suspension and comfort or if the pushing takes more effort.
If you often use the Rollz Motion Performance as a wheelchair, inflate the tires more often, especially the smaller front tires. This is just like when you regularly have someone on the back of the bicycle. Then you also have to inflate the tires more often. By keeping the tires at the correct pressure you prevent walking or pushing from getting heavier.
By slightly varying the tire pressure you can adjust the comfort you experience while driving. The goal is comfortable driving and easy pushing.
The artificial rubber of the tires is very thick, much thicker than a bicycle tire. The profile gives extra grip when walking. These tires are so robust that the inner tube will not puncture quickly. If this does happen, the inner tube can be fixed. For this you can go to a bicycle repair shop.
The tires may need to be inflated after traveling by plane. Make sure that you include the air pump in the wheelchair package when you fly.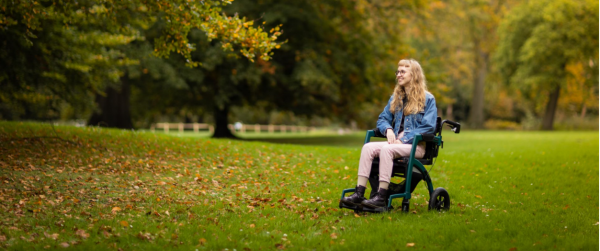 ---
Read more blogs