Three heavy oxygen tanks fit easily in the Rollz Flex's bag, acting as an oxygen tank holder. For those people who are constantly dependent on oxygen, this greatly increases their mobility. All equipment is out of sight and only the tube come through the zipper.
German self-help group 'Lunge Hanau' for people with respiratory diseases has recently posted on Facebook an interesting message about this. The photos (below) already speak for themselves. The group's initiator, 67-year-old Gerdi Späth, has been dependent on oxygen therapy for 15 years. It takes only a few steps walking from the dining table to the kitchen counter for her to be out of breath.
To be able to move around the house she needs around eight to ten liters of supplemental oxygen every day, through a tube placed in the nostrils. This tube is connected to a fixed oxygen tank in the living room. Gerdi's oxygen lifeline is about nine meters long, no centimeter longer.
But of course she also wants to go out sometimes. Until recently, however, she could hardly leave the house. It was too stressful. To be able to leave home for four to five hours, she must carry along a number of mobile oxygen devices. "Mobile oxygen is the best way for me. But the equipment from some manufacturers is so heavy that I can barely carry it. So this often means staying at home and isolating yourself against your will."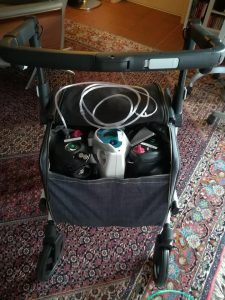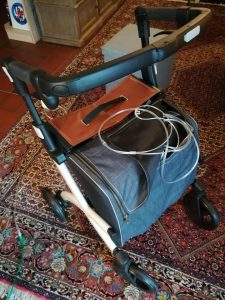 "Finally a lightweight rollator with such a high loading capacity!"
Gerdi Späth explains: "To be mobile outside the house I have to take several oxygen devices with me. Each device full of oxygen weighs almost 4 kg and sometimes three of these have to be taken along. So just calculate how hard that is! The bags of my previous walkers (in plural) were totally not designed for carrying heavy mobile oxygen devices. As a result, I often ended up in unpleasant situations (fallen on the floor 🙁 ).
"For my 15-year 'long-term oxygen therapy jubilee, I started a (not easy) search for a strong and more durable walker. That is how I found the Rollz Flex."
This so-called lightweight walker weighs only 7.4 kg. However, the lockable bag has a load capacity of 20 kg and can act as a oxygen tank holder.
"This is not only great for carrying multiple mobile oxygen devices, but also very useful for those who want to do extensive shopping with a walker. I have been using the Rollz Flex for a while now and I am still very happy with it. The Rollz Flex is excellent for patients that need long-term oxygen therapy and have a high oxygen requirement," says Gerdi Späth, chairman of Lunge Hanau.
Self-help group
The 'Lunge Hanau' group focuses on people with COPD (Chronic Obstructive Pulmonary Disease) and other respiratory diseases in Hanau, Germany, not far from Frankfurt. A few times a week, founders Gerdi and Norbert Späth post messages on Facebook to support people with lung disease. This way they share information and experiences, supporting others and motivating their loved ones to cope with everyday life, in spite of their illness. The motto on their site is a statement by the Swiss artist Alfred Selacher: "three minutes of self-help is better than three weeks of self-pity."
The couple has personally experienced that shortness of breath often drastically reduces mobility. Due to their breathing problems, many patients are inclined to withdraw from society, so that they might go into social isolation. With posts like the one about using a Rollz Flex to bring along the needed oxygen devices, they encourage people to get out of the house.
---
Read more blogs: