The holiday season is just around the corner and we'd like to give you a helping hand in finding the perfect Christmas present for yourself or your loved ones. This is never an easy task, especially when looking for gifts for people with disabilities, as you want your present to be meaningful and not just a reminder of a person's disability.
We've put together a holiday gift guide to ease your present hunt this season. It includes shops offering unique handmade objects, including gifts to match your rollator/ wheelchair. Some of these shops even belong to Rollz users!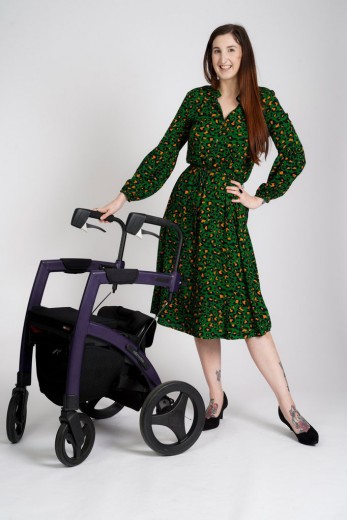 Clothes
Clothes can express how you feel or how you want to portray yourself. Offering clothes as gifts for people with disabilities is never a bad idea. Kintsugi Clothing offers inclusive clothing, with the length and fit of certain items made especially with wheelchair users in mind. And look how cool their clothes match with our Rollz Motion rollator that was used for their product photoshoot (picture on the left).
Canes
Different aids for different days – many people with a disability have a range of different mobility aids, as some days are better than others. Why not add a Neo-Walk cane to your collection? Their fluorescent, glittery, and impressive light-up designs will add something special to your outfit and brighten everyone's day!
Handmade jewellery
You can never have enough jewellery. This online shop is filled with polymer clay earrings and a variety of unique pieces made by Pam, who has a Rollz Motion Performance. They can accessorize anything in your wardrobe. After all, who doesn't love a bit of colourful jewellery to spruce up their outfit?
The vintage corner
If you love vintage jewellery and accessories, we've found the perfect place for you. Cool barrettes, gorgeous crowns and other accessories handmade by Bonnie, another proud Rollz Motion user. Bonnie is a great role model who shows us that being fashionable and using a rollator can go hand in hand (picture on the left).
A gift for everyone
Coasters, keychains and wreaths, all made of paracords by Paige, who uses a Rollz Motion rollator and wheelchair not only throughout her daily activities but also when showcasing her work at markets and fairs. Everything in Paige's shop is useful or can be part of your home, making it perfect for gifts for people with disabilities.
---
Read more blogs: