Receiving a Multiple Sclerosis diagnosis is anything but easy. It's life changing and challenging in so many ways – mentally, emotionally, professionally. You don't want to give up your old life, but you do wonder how you are going to cope with it from now on. When it comes to disability at work, a lot of fear, uncertainty and stigma revolves around the subject.
The story of Jorge Mora, a successful Fund Account Manager from Halifax, Canada is an acknowledgement of resilience and optimism. In the following paragraphs, you will read how Jorge managed to turn disability at work into a strength.
Symptoms of disability can accumulate and become crippling very quickly, until you are finally faced with a diagnosis. Having a disability should not mean that you need to give up a professional life. It only means accepting and adjusting to a new reality.
"My legs were getting worse and I fell a couple of times. One day I was alone at the office and I noticed I could not walk anymore; I had to grab the walls or anything I could hold onto in order to reach my car. These weird symptoms continued for a couple years, and at some point, I couldn't walk at all. I ended up in the hospital and that was when I received my diagnosis: Multiple Sclerosis. Frustration, desperation and depression followed."
Jorge was very much invested in his work life and receiving an MS diagnosis made him consider his disability at work. How would it impact his contribution at work? How would his colleagues view his disability? There was one thing Jorge was sure of: he was not going to stop working.
"I didn't know what to expect, but I realized that I needed a walking aid urgently. So, I made the first mistake of purchasing a random rollator online – it turned out to be extremely uncomfortable, totally unfitting for my body, and very expensive! I did not like it at all! So, I went on looking at the rollator store in my city, but I couldn't find my rollator. I wanted something which was adapted to my body, was comfortable to use, and looked good."
The stigma around using a rollator is a common reason why people with mobility issues postpone their first purchase and want to avoid being seen with a rollator. Next to stability and safety, aesthetics of the product weighs a lot in the decision of purchase. It ultimately comes down to one simple thing: you don't want to feel disabled. It helps a great deal to use a walking aid you are not ashamed to be seen with.
"One day I saw that a friend with MS posted a picture with their Rollz rollator – it looked different from the others, it looked cool! I did my own research online and I decided to take the plunge, ordering my own Rollz Motion rollator from a distributor in Canada."
With Rollz, Jorge not only found a rollator which met all his desired characteristics and enabled him to keep a big part of his identity – his work – but also found a mental and emotional support tool.
"It was one of the best decisions I've ever made! I bought the purple Rollz Motion rollator. I named it Poe, like the mascot of my favorite American football team, the Baltimore Ravens."
"What makes Poe special is that it is so well designed that it feels like a natural extension of my body. It doesn't hurt that it looks pretty cool as well! It is so easy to store it in the trunk of my car that I am now able to take trips again. I might be disabled, but I want to look good. Poe combines usability and great design, so I do not feel disabled when I use it."
Taking disability at work to the next level
Being a professional with a disability doesn't only mean carrying the emotional charge, but also finding practical ways to adjust to the work environment which might not always be properly equipped. Elevators, ramps and pathways accessible for a rollator represent important aspects to consider and ask about at your workplace.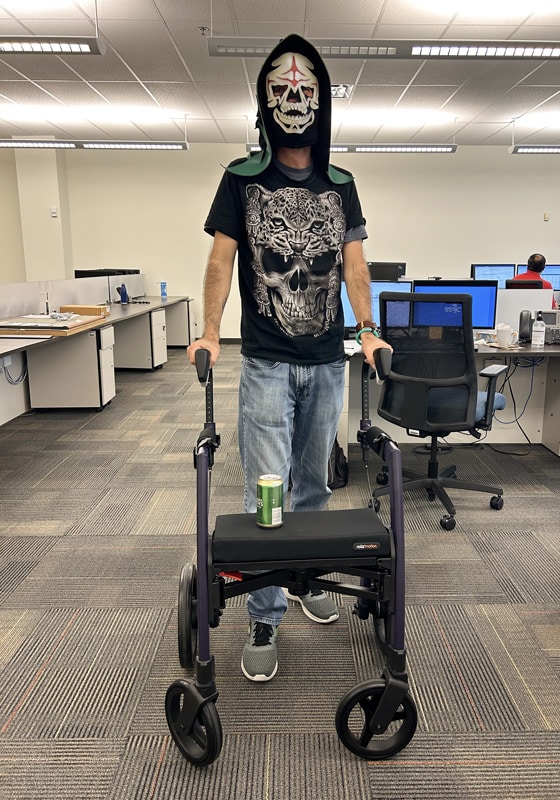 Jorge found a way to make it work and continues enjoying his job with the support of Poe. "Poe changed my life! I can now go to places I could not go before. When I need to rest I can take a break. At work I feel safe now. I come to the office everyday so the days when my legs are being difficult I just bring Poe along with me and I can move around without any issues. I am able to enjoy activities such as the Halloween office party –- as you can see in the picture, I could move around and interact with all my co-workers. There are no drawbacks at all by using Poe at the office or when going shopping."
At Rollz, what is most important for us is that we are able to support people to keep their lifestyle and pursue their goals, whilst helping them to overcome the feeling of disability at work and outside of work. Just like Jorge, many Rollz users  in our community have named their rollatorsand are proud to use them every day. Our mission goes further with every happy "rollzer".
Jorge continued: "I am more independent and I feel that I got a part of my life back that I thought was lost. It makes me feel that I can take charge of my difficult situation instead of being dependent on others."
"Thank you Rollz! I look forward to years of adventures with Poe!"
Thank you, Jorge, for sharing your story with us. Welcome to the Rollz family!
---
Read more blogs: