This fall Rollz International is introducing an innovative Parkinson's rollator with cues at the Rehacare, the international trade fair for rehabilitation and care in Düsseldorf, Germany.
The Rollz Motion Rhythm is a particularly stable rollator with three rhythmic cues. It is developed for people with a disrupted gait pattern like Parkinson's, who suffer from freezing symptoms.
To step out of a freeze, three different signals support the user to start a rhythmic walking movement. The three cues consist of a laser line on the floor, a ticking metronome and a vibration in the handles. These rhythmic cues are set via a module on the Rollz Motion rollator. Here you can also speed up or slow down the walking pace.
Rollz Rhythm app
With the corresponding Rollz Rhythm app further details can be set, such as the vibration and sound intensity, the pitch, the pattern length and the composition of the pattern.
Rollz CEO Arjan Muis: "The Rollz Motion has already proven itself in Parkinson's patients. They appreciate the way it increases their mobility. With the rhythmic addition, the Rollz Motion Rhythm is the ideal solution for people in a slightly more advanced stage of Parkinson's. The cues help to start a rhythmic walking pattern. Three different cues in a Parkinson's rollator combined with an app – this is what we think is innovative. This international trade fair is the platform par excellence to show this innovation to the world."
With the optional wheelchair package, the rollator can be transformed into a transport wheelchair on the way. Another accessory are the slow down brakes that provide an adjustable, continuous resistance. A version with two extra laser lights is also available. These help to take a left or right turn.
Off-road rollator and wheelchair in one
Another product introduction concerns the off-road version of the rollator and wheelchair in one: the Rollz Motion Performance. This has the color jungle green. The pneumatic tires dampen shocks. Therefore they provide a safer and smoother ride over rougher terrain or bumpy roads. This all-terrain version of the combined rollator and wheelchair features ergonomic handles, softer armrests, reflective parts and a sturdy seat cushion.
Black frame for the Rollz Flex

Also on display at the Rehacare is the new matt black coated version of the Rollz Flex design rollator with large bag. A real eye catcher!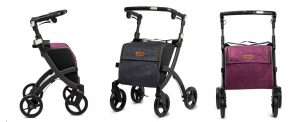 All product innovations are introduced at the Rehacare in the Rollz stand. You will find us from September 18-21 in Düsseldorf in Hall 6, booth C38.